NO PUBLIC SPACE
NO INSTITUTION
NO SERVICE
ZOLLO is a group of 17 people with different professions. ZOLLO realizes interdisciplinary programs intertwining performance, music, community, cinema and lecture. ZOLLO developed the series 'There Is No' in three parts: 'There Is No Time' in 2017, 'There Is No Space' in 2019 and 'There Is No Satisfaction' in 2020. The collective ZOLLO was founded in 2017 (www.zollo.myportfolio.com) and is also represented through four overseas container which are currently located in the industrial area of Hamburg.
Consisting of stage designers, musicians, filmmakers, graphic designers, performers, hackers, architects and theorists, ZOLLO eludes the concepts of public space as a representative sphere, of service as a commodity exchange of human interaction and the concept of institution, as a mediating agency of social norms. Our formats are diverse, queer* feminist, provocative, playful, questioning, curious, artistic, performative, anti-capitalist. Their intersections question the fixed pigeonholes and conceive all bodies as part of the community; theory-performance, installative concerts, workshop-brunch, reading-cinema, etc…. confrontations in a framework that breaks with usual experiences and aesthetics of "art exhibition," "performance," and "panel discussion," bringing together different formats, discourses, and people in one place.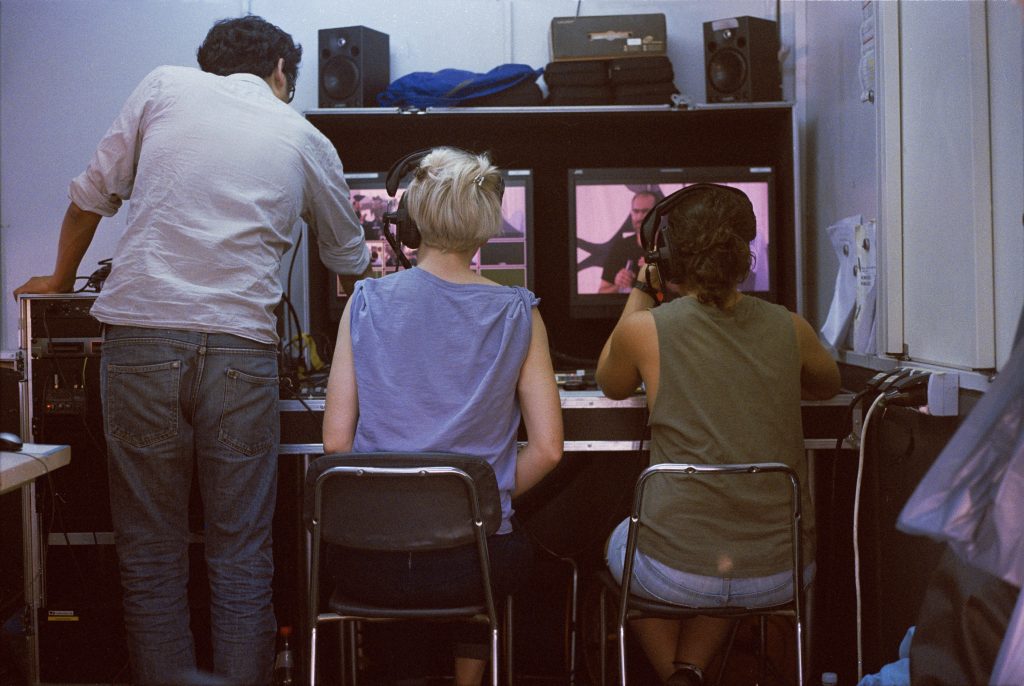 G20 summit, 2017
there is no time, livestream intervention
For the G20 summit that took place in Hamburg on the 7th and 8th of July, we sent out the following invitation: 'There Is No Time. We have to talk about the present if there is to be a future'. In a collective process spanning several months, many different participants (among them many students of HfBK) developed a broadcast program for a live stream that would be projected from a floating platform in Hammerbrook, outside the restricted area, to all parts of the city for 48 hours during the days of the summit. The goal was to provide a critical engagement with the topics of the summit and mediation thereof for people who are not usually part of such discourses. In order to do this, we invited different speakers from theoretical and activist backgrounds, such as Katharina Hajek, Tomasz Konicz, Julia Dück, Kim Sebastian Todzi, Pavlos Roufos, Bini Adamczak and Hans-Joachim Lenger who in 15 talk shows dealt with questions such as: why have protectionism and national sovereignty again become rallying points for both left and right currents in parliamentary politics? Why is the alleged threat to labour posed by automation not rendered as good news, since it would mean free time for all? Does post-crisis Greece still exist? What about the eurozone? How long will it take until this irreversible climate change is finally halted by competent technicians? Does depression only become social with the doctor's certificate or before that? What does all of this have to do with G20?
The summit provided a reason for us to initiate an unusual exchange throughout
the city: we were led by a situation that had already turned everyday life into a state of exception. Taking this moment in which public space became a visible battle field, we wanted to use these exclusionary mechanisms to effectively blur the boundaries between public and semiprivate spaces, institutional discourse and bar banter. Corner shops and pubs as well as cultural institutions (for instance Kunstverein, Kampnagel, Schauspielhaus, the HFBK itself) became venues for the social interactions of diverse participants. This mingling was not least due to the wide network of students coming from across departments. We wanted to create attention for one another through intervening decisively into the city as a transmission and claiming back space. The format of the broadcast enabled us to not just respond to each other, but also to simultaneously be in different places. This allowed for cooperations to arise that led to a wider linking of activists from Hamburg with for instance the free radio station FSK, the media collective MC/FC and the Chaos Computer Club. The space itself was open to visitors during the summit as a place of refuge and meeting point. The swimming stage of the Archipel and the technician's vans onshore created, with the extended set-up of the location, an odd backdrop propped up between the roaring of helicopters overhead and police sirens on the other side, in which people discussed, listened attentively, ate together and exchanged thoughts.
There Is No Time (TINT) is an ongoing collective project that works together in different constellations.